SPECIFICATIONS:    WING SPAN 52.3 INCHES





                          LENGTH 40.9 INCHES




                          ENGINE .25 - .32 TWO STROKE




                          RADIO 4 CHANNEL, 4 SERVO




                          TRICYCLE LANDING GEAR
Phoenix recommends this aircraft for beginner to intermediate level pilots. It's really a great transition plane moving up from the high wing trainer. It performs all of the basic maneuvers and does so with a snap when flown on high rate throws but you always feel that you're in control. Inverted flight requires a minimum of stick adjustment during execution. Overall, it's a fun plane to fly.

I selected the OS .25 engine with a 9x5 prop and considering the size of the plane I was a little concerned about having sufficient power but it turned out to be a good choice.

The Sonic is one of many ARFs that I have built and I would rank it right up there with the best in terms of quality. It comes with all necessary components except electronics. The film covering is neat and tight and all parts fit together with little or no cutting or sanding. For example, the wing joiner fit into the slots in the wing halves, brought the two panels into perfect alignment and required absolutely no cutting or sanding. This was a first for all of the ARFs that I've assembled.

The instruction Manual is fairly well written with text accompanied by many photographs and diagrams.

The Sonic is available from Tower Hobbies for $79.99.

Overall for just an easy flying transition plane for newer pilots I would rate the Sonic as an 8 on a scale of 1 to 10.

Phoenix Models

Sonic 25 Low Wing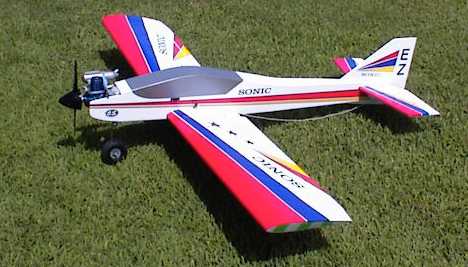 Review by Ed Zwerski

July 2004

Update January 2006

After 137 enjoyable flights, I decided to spice up the Sonic for a little more active flying. I switched the original 25 engine to an OS 40 LA. To do this I had to replace the original motor mount (it was too narrow to accommodate the OS40) and cut off the fuselage side panels of the engine compartment. Since the base of the new mount was a different configuration, I had to drill four new mounting holes in the firewall and epoxy spruce dowel plugs into the old holes to maintain firewall strength. I was concerned with the weight distribution of this modification but mounting the engine slightly more aft plus the effect of removing the side panels resulted in keeping the plane in almost its original balance.

One additional (although minor) modification was to adjust the aileron torque rod and elevator control horns to provide increased throw at full stick movement.

The net results of these changes were just what I had hoped for. Sonic retained its major characteristic of having you always feel in control while performing a wide range of maneuvers at both high and low rate settings. The difference was that it now was capable of significantly more speed and power allowing a "snappier" stick response especially at full throttle and high rate. Sonic was now in a class capable of respectable combat competition.